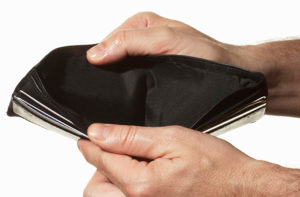 For a long time, I've been going through the process of writing resumes, going to job interviews, and attending job fairs.  The regimen has groomed me to become a better writer and astute in marketing.  While I am unable to use these abilities in my current government job, the circumstance has enabled me to continue using them in this blog and real estate investing.  Before real estate investing, I lent my writing talents to help co-workers with their resumes.  I can guarantee eight times out of ten that they can get into the door, but it was up to them to make it through the interview.
One night after a college class and helping a co-worker via email with his resume, I realized it was time for a change.  Working for nothing was exasperating!  The gains I acquired from that experience were the progression of my General Anxiety Disorder, insomnia, and caffeine addiction.  That's when I learned regular college is not for everyone!  After the final night of the spring semester, I just withdrew for the sake of my health and my sanity.  It was hasta la vista, babies.  It was back to setting up residence on the campus of the University of Hard Knocks!  Fortunately, I was making enough money for someone with a bachelor's degree.  It was cool at that time.
Since I took a scheduled day off from work, it gave me the night to sit back and play with my phone a bit.  I went inside of my contacts and paid attention to who was actually in there.  It took me back into another world I belonged.  Fortunately, it wasn't the world of Mac and Rachel.  Give yourself a pat on the back if you got the timely reference that was produced by Procter & Gamble.  Over a course of several years, I have acquired friends who started businesses and became successful.  Part of me wished I didn't leave that realm, but I did what I had to do.
In that world, they have taken me under their wings and taught me about financial education.  I learned about the power of interest rates and financial vehicles such as an IRA and a 529.  Before I go into depth, I ask that you put on your seat belt.  You may experience some turbulence during the ride!  Also, refrain from eating unless you have a cast iron stomach!
Courtesy of Fidelity Investments, an IRA is an account set up at a financial institution that allows an individual to save for retirement with tax-free growth or on a tax-deferred basis.  There are three types of IRAs-Traditional, Roth, and Rollover-each with different advantages.
A traditional IRA is based on the contributions of money you may be able to deduct on your tax return, and any earnings can potentially grow tax-deferred until you withdraw them in retirement.  Many retirees also find themselves in a lower tax bracket than they were in pre-retirement, so the tax-deferral means the money may be taxed at a lower rate.
A Roth IRA is based on the contributions of money you've already paid taxes on (after-tax), and your money may potentially grow tax-free, with tax-free withdrawals in retirement, provided that certain conditions are met.
A Rollover IRA is a Traditional IRA intended for money "rolled over" from a qualified retirement plan.  Rollovers involve moving eligible assets from an employer-sponsored plan, such as a 401(k) or 403(b), into an IRA.  Whether you choose a Traditional or Roth IRA, the tax benefits allow your savings to grow potentially, or compound, more quickly than in a taxable account.
A 529 plan is a tax-advantaged savings plan designed to encourage saving for future college costs.  529 plans, legally known as "qualified tuition plans," are sponsored by states, state agencies, or educational institutions and are authorized by Section 529 of the Internal Revenue Code.
Many financial services such as your First Financial Services in New York, Westward, NorthStar Financial Services, UBS, Primerica, Prudential, Wells-Fargo, and many others will help you set up and establish an IRA and/or a 529 plan.
Depending on the advisor, let's say you went to Fidelity for an example, you can contribute an initial investment (as little as $50) or establish periodic contributions from your bank account (as little as $15 a month).  You will more than likely need a job to maintain it.  However, I am not a licensed professional.  It is at the discretion of your advisor.
Now, speaking for myself, I realized my means were expanding quicker than my wallet and needed to work to live instead of living to work.  I enjoy going to events such as baseball and hockey games; concerts, and WWE events.  Also, dining out with friends and embark on the idea of travel.  I had the privilege of going overseas during my Air Force years, and I wouldn't mind doing it again on my terms.  Of course, I cannot forget about investing for my retirement.
Despite serving my country in both military and civilian service, I cringe at the idea of allowing my future in the hands of the government.  In an ideal world, I would love for the government to give me a free house, but we all know that's not going to happen.  We as a nation have put too much faith in politicians and bureaucrats.  It's just insane, our favorite word of the day, to rely on them knowing we are going to be $20 trillion in the hole by the end of President Obama's term.  Also, throw the collapsing dollar, retiring baby boomers, growing trade deficit, a country with an entitlement mentality, higher oil prices, and ludicrous tax breaks for the wealthy into the mix, it will be a sh&*storm that frat houses cannot even fathom of making after a chicken and beer cookout!  Unless there is an economic reform, a tax reform, and a reduction in term limits, the United States will suffer the same fate as Rome and Greece!
It does come across I moonlight as a correspondent for the Fox News Business Channel, but far from it.  I am a citizen who is tired of the status quo's antiquated idea of going to school, getting a job, and placing faith in a group of strangers.  That's a false sense of security, and it is bizarre.  It has behooved me to make some changes or allow circumstances to make some changes for me.  Life is too short to accept the latter.  It is up to you either get busy living or get busy dying.  Too many great minds refuse to choose the former and that is a tragedy.  Until the next time, devoted readers, live long and prosper!
For song of the entry, here are the mighty, mighty O'Jays with For the Love of Money from their critically acclaimed album, Ship Ahoy!